SPLIT AND SALONA
As opposed to busy Trogir and Split it seems that time has stood still in Solin, the site of the ancient Roman settlement of Salona.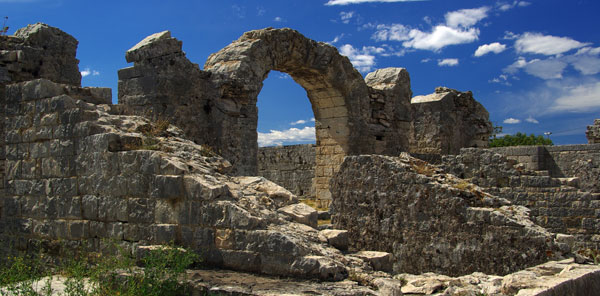 At the time of its greatest prosperity (3rd and 4th century), Salona had ca 40 000 inhabitants while Split did not even exist. Archaeologists have excavated remains of temples, an amphitheatre, early Christian churches, burial grounds and Roman baths which show centuries of prosperity and upheavals, serenity and war. We can certainly say that this is the most important excavation site from the Roman times in Croatia. After tour through ancient times in Salona continue towards Split.
The Old Town of Split is built on and around the spectacular Roman Palace erected by the Roman Emperor Diocletian (born in Salona - today`s Solin) in the 4th century. The walking tour starts with a visit to the cellars of the Palace that are still very well preserved. The cellars offer a good view at how the life in the Palace was organized. Visit the very interesting Cathedral of St. Duje (patron saint of the city). The Cathedral is built on the remains of an ancient shrine and is supposed to be the oldest in the world. A visit will also be made to the charming Temple of Jupiter.
Other sights such as the Golden Gate, the Silver Gate, the Peristyle Square will be seen from the outside. After the walking tour visit the colorful open market (largest on the coast) or spend some time in the city.
Request additional information about this offer by using our request form.