SPLIT AND TROGIR
Situated in a small island squeezed in between the mainland and the larger island of Ciovo, Trogir is connected to the mainland with a bridge.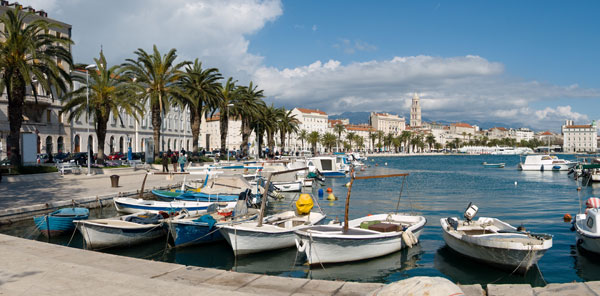 Except for the green parks the entire island is occupied by spectacular constructions: bleached stone houses, palaces, churches, monasteries, towers, walls etc. The streets are narrow and they truly give a feel of how life might have been in the old days. We will visit the main attraction in Trogir - the Cathedral of St. Lawrence. This 13th century building is probably the finest example of sacral architecture in Croatia. The unusual construction with three naves and three semi circular apses dominates the whole town. The main portal carved by the local artist "Radovan" in the 13th century is world famous. Other fine buildings that will be viewed are the Town Loggia decorated with stone carvings, including one by great Croatian sculptor Ivan Mestrovic, the Town Hall, the Cipiko Palace etc.
Actually the whole town is like an open-air museum so just to take a stroll through narrow streets will be an unforgettable experience.
After visiting Trogir you will have free time and opportunity to explore town on your own, before boarding the bus and heading towards Split.
Request additional information about this offer by using our request form.