ISTRIA TOUR - HALF DAY TOUR
Istria, Croatia's largest peninsula will attract you not only by its coast, but also by the lovely and varied inland area. Join our tour to discover Red, Grey and White Istria, to enjoy the beauty of its green hills and numerous vineyards. Istria is also abundant in historical and cultural monuments.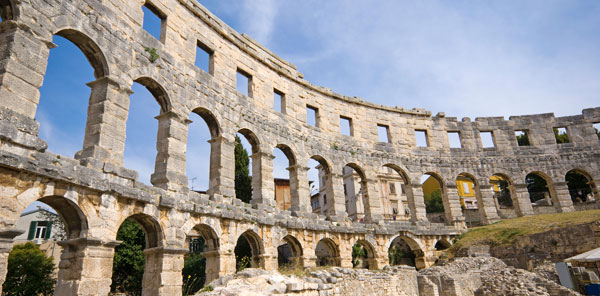 Our tour starts with a drive to Porec. All of the old city of Porec is a tourist stage; this is a place where you can learn from the historical monuments, read from the facades and stone paved streets from the Roman era. The most unique monument is Euphrasius Basilica, an early Christian cathedral, but there are many other symbols of 2000 years of history of the city. The old heart of the city of Porec is also a great place to have fun. Ancient Decumanus, the main street of the old city, is a perfect promenade during the summer.
Continue your tour towards Motovun, a charming medieval town, encircled by ramparts, situated on picturesque hilltop, offering a fascinating view of the surrounding valley, fields and mountains. A photo stop will be made along the way from where you'll be able to take pictures of this picturesque medieval settlement.
Istria is renowned for its wine production, and many famous vineries are situated here. You'll have the opportunity to taste some of the best Croatian wines when we stop in one of the vineries.

Request additional information about this offer by using our request form.